Masai Mara, Kenya
The Masai Mara in Kenya is our most popular photo tour destination. We go to the Masai Mara in February and November. We are now booking for November, 2019.
Below is our slideshow from November, 2018:
Our Oct/Nov trip goes from October 27 (Landing in Nairobi) to November 9. (Departing Nairobi). Most flights get into Nairobi at night so we will be spending our first night at the Four Points by Sheraton near the Nairobi International Airport. Our second night will be Nairobi National Park, then 10 nights in the Masai Mara (five nights each in two different camps). From there we will be spending one night at Giraffe Manor and enjoying a private tour of the David Sheldrick Elephant Orphanage. The next morning we will have breakfast with the giraffes. We'll have one more full day in Nairobi before checking into a day room for a couple hours to clean up and have a farewell dinner. We will be leaving for home between 11p.m. and midnight of November 9th. The cost of this tour is $7250.00 US.
Below is a slideshow from our February, 2018 Safari
And a fun slideshow from Giraffe Manor:
Hot AIr Balloon Safari over the Mara River:
This safari combines four elements that truly makes it a bucket list safari.
1.) Wildlife Viewing- The Masai Mara is one of the best wildlife viewing destinations in the world. We stay at two premium wildlife camps in the masai mara.
-Our guests are guaranteed to have no more than four guests per vehicle.
-Photographers are guaranteed to each have their own bench seat so they can photograph out of both sides of the vehicle. Wildlife Photographers have no more than three photographers per vehicle.
2.) Animal interaction- We stay at the world famous Giraffe Manor for one night. This is a must do part of a premium safari in the Masai Mara. This gives us the opportunity to enjoy high tea while feeding the giraffes. The next morning we have breakfast with the giraffes.
We also enjoy a private tour of the David Sheldrick Wildlife Trust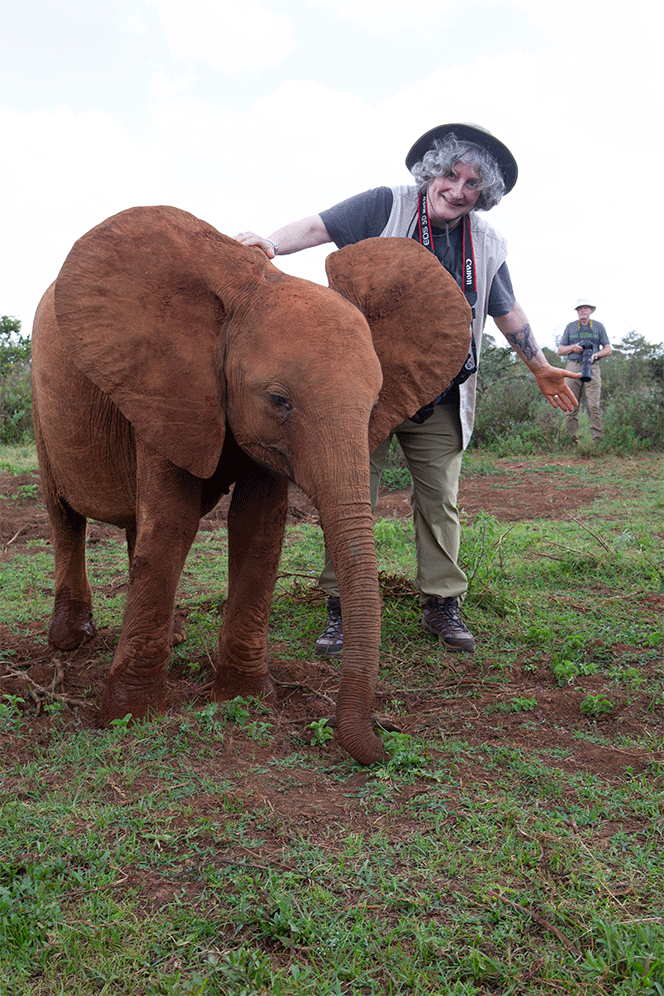 3.) Cultural Experiences and Giving Back- For those who are interested we visit a school and can also visit a village. We support four schools in the Masai Mara. Each time we visit we bring much needed clothing, teaching and school supplies, shoes and sporting equipment.
Three and four year olds singing to us from Loigero School:
4.) Nairobi Tour and Souvenir Shopping- When the safari is over, our flight doesn't leave until late in the evening. This gives us the day to do a little souvenir shopping before we stop in at a hotel to clean up in a day room and have a nice dinner before catching our flights home.