*Some of the above helicopter and hyde images courtesy of Jeffrey Wu at Lentorre Lodge.
Masai Mara, Kenya 2024
Our November 2024 safari is full.
Lentorre Lodge Pre-extension dates: October 27 -November 1 , 2024. With a pre-extension to the helicopter and Hyde safari with dates of October 28 to November 1.
Our Oct/Nov trip goes from October 27 or November 2 (Landing in Nairobi. October 27 for the extension group and November 2 for the regular safari group) to November 12 (Departing Nairobi). Most flights get into Nairobi at night so we will be spending our first night at the Four Points by Sheraton near the Nairobi International Airport. Our second night will be in the Masai Mara. Four nights in the Southern Masai Mara and four nights in the Northern Masai Mara, then on to Giraffe Manor and a private tour of the elephant orphanage, then a day room at Four Points by Sheraton where they can enjoy a shower and a hot meal before departing back home.
Photo Safari Hyde & Helicopter Flights
For those who will take part on with the extension, we will charter a flight and fly diirectly to and From Lentorre Lodge.
We will enjoy four relaxing nights at the lodge. We will take over the lodge. We will be able to stay as long as we want in the hyde. Helicopter photography is an option at an added expense. There will be seven of us total so we will have the leverage to charter the helicopter and share the costs. Contact Greg for more information at greg@hwphoto.ca
Slideshow from our March, 2019 trip:
The Masai Mara in Kenya is our most popular photo tour destination. We go to the Masai Mara in February and November. We are now booking for November,
Below is our slideshow from November, 2018:
Hot Air Balloon Safari over the Mara River:
This safari combines four elements that truly makes it a bucket list safari.
1.) Wildlife Viewing- The Masai Mara is one of the best wildlife viewing destinations in the world. We stay at two premium wildlife camps strategically chosen in the Masai Mara for the type of wildlife in each specific area along with the comforts of each camp.
-Our guests are guaranteed to have no more than four guests per vehicle.
-Photographers each have their own bench seat so they can photograph out of both sides of the vehicle.
2.) Animal interaction- We stay at the world famous Giraffe Manor for one night. This is a "must do" part of a premium safari in the Masai Mara. This gives us the opportunity to enjoy high tea while feeding the giraffes. The next morning we have breakfast with the giraffes.
We also enjoy a private tour of the David Sheldrick Wildlife Trust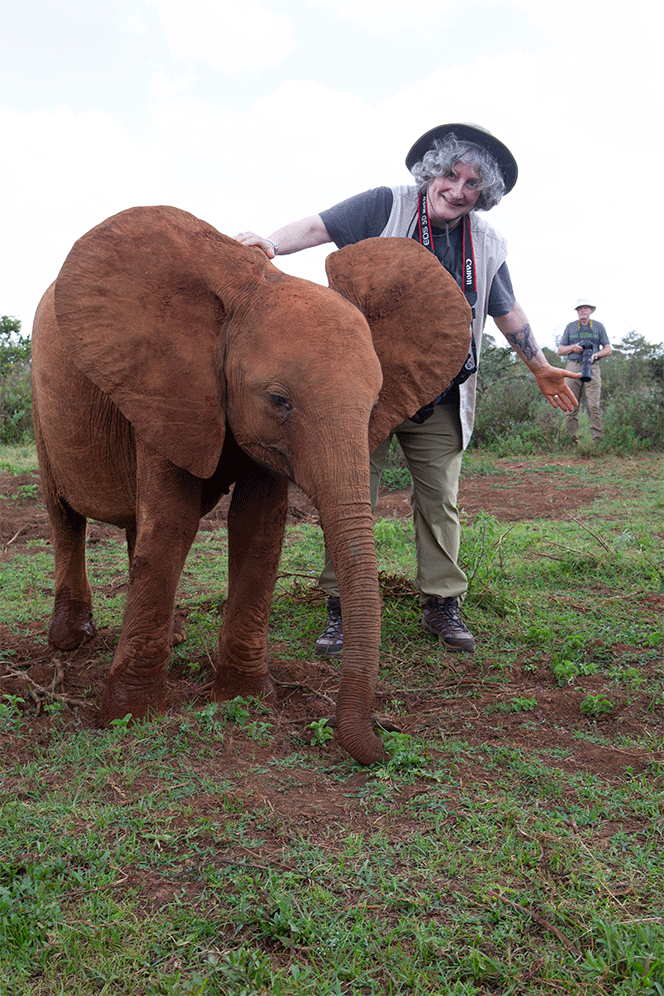 3.) Cultural Experiences and Giving Back- For those who are interested we visit a school and can also visit a village. We support four schools in the Masai Mara. Each time we visit we bring much needed clothing, teaching and school supplies, shoes and sporting equipment.
4.) Nairobi Tour and Souvenir Shopping- When the safari is over, our flight doesn't leave until late in the evening. This gives us the day to do a little souvenir shopping before we stop in at a hotel to clean up in a day room and have a nice dinner before catching our flights home.
-End of Safari-
Details, Details, Details...We will have 12 people in our group. That gives us the leverage we need so the camps love our buiness. It also gives us the non-photographer vs photographer ratio that we need. Four non-photographers per vehicle or three photographers per vehicle. Each non-photographer gets his or her own window seat. Each photographer gets his or her own row so he or she can photograph out of both sides of the vehicle.
February, 2018 Kenyan Safari:
Safari Cost- The cost of this five star trip is $6,200.00.00 U.S. per person based on double ocupancy (or $7,150.00 US for a single) including flights to the Masai Mara from Nairobi and back. This rate does not include international flights.
*For those of you who have been on many of my Kenyan safaris and have been to Giraffe Manor and the elephant orphanage you may opt out of the Giraffe Manor and elephant orphanage extension at the end and you can take $975 off the cost of your extension.
Safari Extension-
The cost of the extension includes the flight to Lentorre Lodge, Four nights Lentorre Lodge, Flights back to Nairobi and Giraffe Manor.
$5,250.00 US based on double occupancy or $5,750.00 US based on single occupancy.
Payment:
20% deposit to hold your spot
40% due March 30, 2022
40% due August 1, 2022
Included In Safari Cost- Meals and accommodations at Giraffe Manor, Little Governors' Camp and Enkewa Camp. Laundry, flights from Nairobi to the Masai Mara and back, 2-3 safari drives per day while in the Mara, visit to the school, bottled water on game drives and transportation in Nairobi.
Not included In Safari Cost- International flights, gratuities, hot air balloon flight costs, helicopter charters, alcohol, pop, personal purchases, $50 US for Kenya Visa (must be paid online to Kenyan government. I will suppy details), $40 for those interested in visiting the village. Meals not included are lunch and dinner in Nairobi before flying home on our last day.
To secure your African reservation email greg@hwphoto.ca Please email with questions or call 780-945-6882